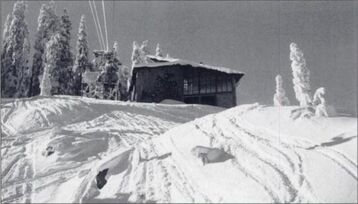 Thunderbird Restaurant later known as Thunderbird Lodge, is a building at Summit West. It is at the top of Thunderbird Hill, off of Wildside. From 1956-1990 it was an active restaurant that served skiers seeking a meal and a mountain view. The building is now abandoned.
The Thunderbird Restaurant was designed by noted Seattle mid-century modern architects Bert A. Tucker and Robert Shields. Photos of the restaurant from 1956 by photographers Phyllis and Robert Massar can be viewed online in the University of Washington Libraries digital collections.
1990-present
Edit
The exact date that Thunderbird Restaurant shut down is not known, but it is generally believed that around 1990, the restaurant was shut down by the Health Department. The reason of its closure seems to be that the building has no running water, so serve to customers or to service toilets. When the building was functioning, outhouses would be placed on the exterior for skiers to use, but there was never a restroom inside. The building sat vacant for a while, perhaps being used occasionally for ski patrol, or other staff purposes (but this is not certain). Sometime later, the owners of the Summit (either Ski Lifts, Inc. or Booth Creek depending on the time period) decided to lease the property to a cell phone company, and a cell tower was then erected nearby. It is not known to what extent the restaurant building is used, but some wires from the tower go into the basement, and there is a locked room where there may be some sort of control panel. The building is currently not used for any purpose, aside from a spotlight inside the dining area that is used for lighting the main ski run. The interior and exterior has deteriorated considerably, but the structure remains sound. During the 2011-2012 season, the metal roof panelling began to fall of the building, and pieces were hanging off for many months. They were later removed, but it is not known if they were replaced or not. Two lightbulbs remain lit in the basement, leading to the assumption that the building is still used in some way.
The Summit's master development plan released in 1998 called for a full-scale renovation of Thunderbird Restaurant. Reportedly, in the early 2000s, a small movement was started on the Pass to raise money to renovate the lodge, and it has been said that Booth Creek had pledged to put up money to finish the project. This never came about. The project was still on the master development plan when it was approved by the National Forest Service in 2008, and is still on the the most recent version issued in 2010. An inquiry was put on the Summit's Facebook page concerning the future of the lodge in 2012, to which a representative replied "no plans to open it any time soon". It is not known at this time what will become of the lodge in the future.