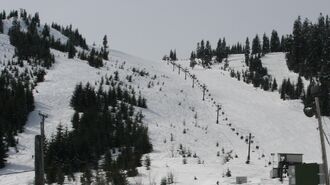 Keechelus was a chairlift at Hyak. It served as the main chairlift for about 20 years.
After the Dinosaur proved to be an unreliable chairlift during the 1971 incident, Hyak officials came up with the idea of building a back-up lift, The Hyak Corporation hired Riblet Tramway Company to construct a chairlift replacing the Upper Poma in 1974. After the Dinosaur stopped running, between 1987 and 1990, Keechelus then became the main chairlift. From the Hyak parking lot, Easy Gold was required to take in order to get to Keechelus.
Keechelus

Unknown

Also Known As
Unknown
Type
Fixed-grip double chairlift
Manufacturer
Riblet
Built
1974
Installed
1974
Defunct
2009
Removed
2009
Known Colors
Red towers and chairs, later black towers and green chairs.
On January 7, 2009, a landslide occured on the face of Hyak that took out two towers of Keechelus. Instead of repairing the lift, the Summit took the opportunity of executing the Master Development Plan. Keechelus was then removed in 2009 and East Peak replaced it as the main chairlift when Hyak re-opened in 2011. Main parts of Keechelus, as well as Easy Gold were recycled to create an entirely new chairlift, Hidden Valley on the backside of Hyak.
Section heading
Edit
Write the second section of your page here.